I must first confess that I have not been an avid reader throughout my life. However, in the past few years I have begun to read considerably more. I had always associated book writing with the folks who like to read them. Now, I find that I have written one and I am well into the writing of a second; what's next? The second manuscript has been so much more of an easier write; having already made ever mistake possible in the first endeavor!
In regards to favorite books; well, lets see, not having read the likes of the Library of Congress, I will have to give this some thought. The following books come to mind as far as having left a lasting impression.

Stranger in a Strange Land
by Robert A. Heinlein
Papilon
by Henri Charrière
One Flew Over the Cuckoo's Nest
by Ken Kesey
Slaughterhouse-Five
by Kurt Vonnegut
Soul on Ice
by Eldridge Cleaver.
Paradise Lost
by John Milton
And lastly my own composition: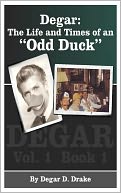 nookbook
Degar: The Life and Times of an "Odd Duck" Vol. 1 Book 1 (11/3/2011)