Degar: The Life and Times of an "Odd Duck" Vol. 1 Book 1
Welcome, one and all to the Odd Duck's website. During this past year (2011) I have taken to writing and documenting the stories of my life in the form of several memoirs, beginning with Degar: The Life and Times of an "Odd Duck" Vol. 1 Book 1. In this first edition I have basically introduced myself and a host of personalities that will reoccur in subsequent books as yet to be penned. Throughout my adult life I had always presumed that with my chosen life-style(s) that I would probably not see my fortieth birthday. However, at sixty-seven, forced changes in my living habits have extended my existence to date, by nearly three decades. And now these tell-all tales will at long last see the light of day regarding the many strange and bizarre scenarios that have come to fruition along my way.
This type of undertaking is a first time go-around for me. However, I persevered and ultimately came up with a factual and truthful representation of my early years, with the later years to come in good time. I have attached the links below to the online distributors, i.e., Barnes & Noble and Amazon.com in regards to purchasing the Odd Duck's "wacky-quacky-ways." Buckle up my friends and enjoy the ride!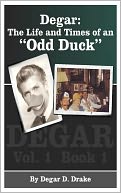 -Nookbook-
Degar: The Life and Times of an "Odd Duck" Vol. 1 Book1 (Same as above)
by Degar D. Drake
-Kindle-